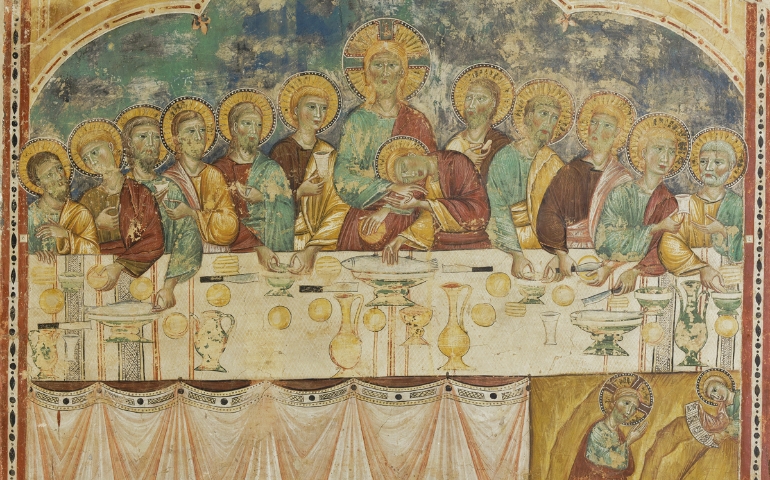 Le Palazze Project
The Romeyne Robert and Uguccione Sorbello Foundation is proud to have funded the research and virtual reconstruction of a series of dismantled religious frescoes from the convent of Santa Maria Inter Angelos in Spoleto. The mission statement of the foundation includes "the forging of cultural bridges between the United States and Italy," which is exemplified by its involvement in this collaborative research effort between Italian and American universities.
The Antico Monastero of Santa Maria inter Angelos was built in 1229 as a convent for Clarisse nuns of the order founded by St. Clare of Assisi. In the late thirteenth century, an anonymous artist referred to as the Maestro delle Palazze painted a series of frescoes spanning the walls of the convent depicting the life and death of Christ. In the 1920s, fragments of the frescoes were removed and purchased by five American museums in Boston, Cambridge, and Worcester, Massachusetts; Hartford, Connecticut; and Bryn Athyn, Pennsylvania. The remaining fragments were sent to the National Museum of the Duchy of Spoleto in 1964, further dispersing the masterpiece.
Scholars from Italian and American universities have worked to bring the frescoes back together in a virtual reconstruction. Tommaso di Carpegna Gabrielli Falconieri and Grazia Maria Fachechi led the team and produced a volume of essays, which furthers understanding of the historical and artistic context of these frescoes and their dismantling: The Palazze Frescoes. A Tale between Umbria and America, Rome: Gangemi, 2017. Accompanying this book is a DVD that provides a virtual tour of the reconstructed fresco fragments in the original rooms of the convent. This volume and DVD allow for the visual and historical restoration of one of the most outstanding examples of thirteenth century Italian art.